$14.00
ISBN: 9780939431175
Availability: Special Order
Published: Bored Feet Publications - July 1st, 2001
---

$15.95
ISBN: 9780961996840
Availability: On Our Shelves Now
Published: Janet Ashford - June 27th, 2008
The village of Mendocino, California is surrounded by the Pacific Ocean and by Mendocino Headlands State Park and welcomes the visitor not only to a friendly small town but to an historic district filled with unique examples of 19th-century architecture, charming shops and bed-and-breakfast inns, art galleries and spas, gourmet restaurants, two history museums, and the renowned Mendocino Art Cente
---

$34.95
ISBN: 9780615950051
Availability: On Our Shelves Now
Published: Mendonoma Sightings Publishing - January 31st, 2014
This beautiful book features over 250 color photos from the Mendonoma Coast, the vast majority taken by nature photographer Craig Tooley. Jeanne writes a weekly column, Mendonoma Sightings, in the Independent Coast Observer, which has appeared for more than eight years. This book is a compilation of her work in the Independent Coast Observer.

---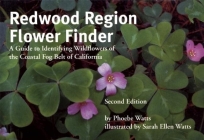 Email or call for price.
ISBN: 9780912550251
Availability: Out of Print
Published: Wilderness Press - January 1st, 2002
A new, updated edition of the classic key to identifying wildflowers that grow in the range of the Coast Redwood tree, Sequoia sempervirens, along the coastal fog belt of California. Organized as a dichotomous key, leading the user first to flower families and then to the species. Includes flowers of sunny openings, fields, and streamsides, as well as flowers of the forest floor.
---

$18.00
ISBN: 9780984115334
Availability: Special Order
Published: Woodlands Wildlife Mendocino - October 1st, 2010
Touching Wings, Touching Wild is both a memoir and wildlife adventure. Ronnie James uses her thirty years experience of wildlife rescue, rehabilitation, and release to take us into a world governed by hunger and hormones, and we emerge with a new set of tools and references for enjoying and building relationships with the wildlife we all encounter.
---

Email or call for price.
ISBN: 9780520231733
Availability: Out of Print
Published: University of California Press - May 15th, 2003
Here is the definitive botanical guide to the wetlands, woodlands, coastlines, hills, and valleys of the San Francisco Bay Region.
---