October Faction: Open Season (Paperback)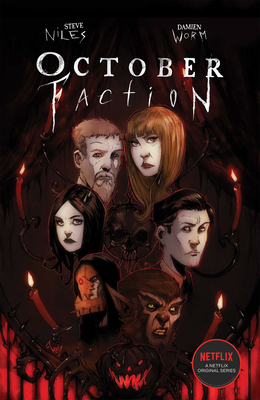 $32.99

We can get this for you pretty soon!
Staff Reviews
---
From the guy who brought us 30 Days of Night, the book is perfect for Halloween. October Faction is a family of monster hunters who go through all the drama of normal family dynamics as well as the occasional werewolf and vampire slaying. Great gothic atmosphere and amazing characters! Recommended by Rob
— From
Books We Love: Fiction
Description
---
Now a Netflix Original Series! Meet the Allan family in this tale about the typical challenges that a very atypical family encounters while fending off the attacks of vampires, werewolves, demons, and more.

From Steve Niles, the co-creator of 30 Days of Night, and artist Damien Worm comes a series about retired monster hunter Fredrick, his wife Deloris, and their two children Geoff and Vivian.

As Fredrick works to put his monster hunting days behind him, his two kids insist on joining the family business. But ghosts from the past refuse to stay dead and conspiring forces lurk in the shadows, all leading to a massive showdown with foes supernatural and natural alike!

Collects the first 12 issues of the comic book series.
About the Author
---
Steve Niles is a comic book author and novelist, known for works such as 30 Days of Night; Criminal Macabre; Simon Dark; Frankenstein Alive, Alive; Mystery Society; and Batman: Gotham County Line. He is credited among other contemporary writers with bringing horror comics back to prominence.
Praise For…
---
"Classic Niles, morbid, yet smart and filled with creative new twists on the horror tropes that have burrowed deep down and taken over his brains. Damien's art is a pitch-perfect pairing. Clean and fluid storytelling topped off with a healthy serving of muddy hues, expressive inking, and horrifying ghouls." –Rick Remender, Writer (Black Science, Deadly Class)

"The pages look like relics, the frames like long-lost pictures of a scarier time. Blood-soaked, worn by time and weather, they are as monstrous as the story being told." –Big Comic Page

"Steve Niles isn't just the king of horror in our comic book world, I really think he's the best big-concept guy. I'm in awe of this book. He's done it again." -Mark Millar, Writer (Marvel Knights Spider-Man, Ultimate Fantastic Four, Kingsman: The Secret Service)

"Steve Niles tells a terrific story about the horrors of family, and Damien Worm's artwork is goregous." -Brian K. Vaughan, Writer (Saga, Ex Machina)

"Intelligent, intricate, and downright creepy. In other words, typical Steve Niles." -Max Brooks, Writer (World War Z, The Zombie Survival Guide)

"The perfect book to start the fall. The October Faction by Steve Niles & Damien Worm (is) fantastic." -Matt Fraction, Writer (The Invincible Iron Man)

"Check out my buddy Steve Niles' macabre new series - it's the spirit of Halloween year round!" -Slash, Musician & Songwriter (Guns N' Roses)