She Lover of Death: A Fandorin Mystery (Erast Fandorin #8) (MP3 CD)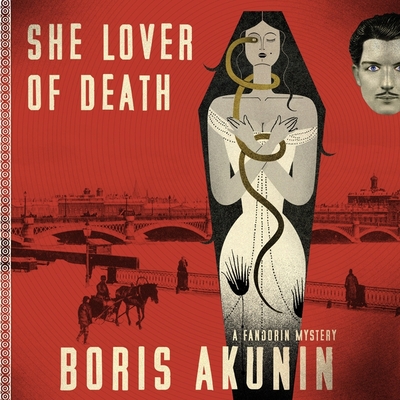 $29.99

Special order - we'll let you know how long!
Other Books in Series
This is book number 8 in the Erast Fandorin series.
Description
---
Naive young Masha Mironova arrives in Moscow at the turn of the century with a modest inheritance and a determination to shed her provincial Siberian upbringing. As soon as she alights in Moscow, she becomes Columbine, a reckless and daring young woman with eccentric outfits and a pet snake worn as a necklace. In her quest for danger and passion, Columbine soon discovers the Lovers of Death--a small group of poets enraptured by death who gather nightly at the home of their leader, the Doge, and conduct's ances to determine death's next chosen lover. Once named at a's ance, the chosen member must await three signs from death before taking his own life. The string of suicides resulting from the group have drawn attention, becoming fodder for extensive media coverage and widespread hysteria in Moscow. As the group's numbers dwindle, a mysterious newcomer appears. Revealed to the listener as Erast Fandorin thanks to the presence of his trusty Japanese sidekick, Fandorin begins to investigate the suicides while also trying to convince the members that death is neither beautiful nor poetic and should not be sought out. But will the gentleman detective be able to stop Columbine from taking action when she receives her three unmistakable signs?