Country Women: A Handbook for the New Farmer (Paperback)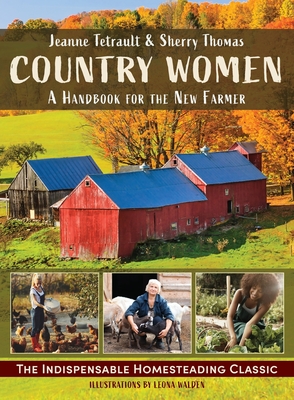 $28.74

We can get this for you pretty soon!
Description
---
The Indispensable Reference for the Self-Sufficient Homesteader
This classic reference, which has informed two generations of women, is taken from the original homesteading publication Country Women. Written from the perspective of women learning and sharing all manner of farming knowledge on a small scale, it remains an invaluable guide. Encouragement and practical information infuse the reader with a deep respect for the land and personal journal entries throughout inspire a sense of self-sufficiency rooted in the earth.
Born of the "back to the land" movement, this handbook chronicles the aspirations of tireless women seeking a new life on small farms around America. Authors Jeanne Tetrault and Sherry Thomas lived this philosophy and lifestyle as they eventually networked with like-minded women to share ideas, stories, and knowledge.
Country Women (not the glossy upstart Country Woman Magazine) started as a small newsletter to share information between the small farms, collectives and communes scattered about the country, eventually reaching 17,000 people by word of mouth. Readers were encouraged to contribute what they knew about gardening, raising goats, building a barn, or any other practical know-how valuable to the new farmer. These voices became the collective voice of self-sufficient women everywhere.
Tetrault and Thomas painstakingly crafted this compendium of the magazine's early years more to capture the best of the information, while adding additional sections on veterinary medicine, carpentry, and more detailed animal care. This manual at once captures the spirit of a generation and conveys timeless wisdom. A must for everyone wishing to build a stronger relationship with the land and their place on it.
This book is also available from Echo Point Books in hardcover (ISBN 1635619904).