I Am God: A Novel (Paperback)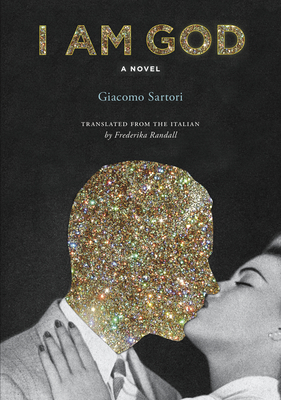 $17.99

Backordered - we'll try to let you know how long!
Staff Reviews
---
Guilty as a mom snooping through her teen's diary, I peered into God's journal about his existential crisis -- unable to stop myself from reaping secret insights. Recommended by Jeanette.
— From
Books We Love: Fiction
Description
---
Diabolically funny and subversively philosophical, Italian novelist Giacomo Sartori's I am God is the diary of the Almighty's existential crisis that ensues when he falls in love with a human.

I am God. Have been forever, will be forever. Forever, mind you, with the razor-sharp glint of a diamond, and without any counterpart in the languages of men. So begins God's diary of the existential crisis that ensues when, inexplicably, he falls in love with a human. And not just any human, but a geneticist and fanatical atheist who's certain she can improve upon the magnificent creation she doesn't even give him the credit for. It's frustrating, for a god.

God has infinitely bigger things to occupy his celestial attentions. Yet he can't tear his eyes (so to speak) from the geneticist who's unsettlingly avid when it comes to science, sex, and Sicilian cannoli. Whatever happens, he must safeguard his transcendental dignity. So he watches—disinterestedly, of course—as the handsome climatologist who has his sights set on her keeps having strange accidents. And as the lanky geneticist becomes hell-bent on infiltrating the Vatican's secret files, for reasons of her own….

A sly critique of the hypocrisy and hubris that underlie faith in religion, science, and macho careerism, I Am God takes us on a hilarious and provocative romp through the Big Questions with the universe's supreme storyteller.
About the Author
---
The novelist, poet and dramatist Giacomo Sartori was born in 1958 in Trento in the Alpine northeast of Italy near the Austrian border. He lives in Paris. An agronomist, he is a soil specialist whose unusual day job (unusual for a writer) has shaped a distinctive concrete and poetic literary style. A prolific and sophisticated writer of fiction with a dozen volumes to his credit, Sartori took as his subject in his early novels Tritolo (TNT) and Sacrificio (Sacrifice) the stifling provincial atmosphere of the valleys of his native region and the twisted lives of its most vulnerable inhabitants. A recent novel Rogo (At the Stake), also set in the region, is written in the voices of three women from different historical periods who commit infanticide. The autofiction Anatomia della battaglia (The Anatomy of the Battle) about a young man's effort to come to terms with and define his manhood against the model of his father, a committed Fascist, and the historical novel Cielo nero (Black Heavens), deal with fascism and its dark, persistent allure. Sartori's shorter fiction includes the book of interrelated absurdist stories Autismi (Autisms, 2010) written in the voice of a person struggling to cope with the bizarre, baffling customs and expectations that all around him seem to share. The black humor and pessimism are reminiscent of Samuel Beckett. Sartori has also published poems and plays, and he has won several Italian literary prizes. Three of his novels have been translated into French. Several stories from Autismi appeared in my? English ?translation in Massachusetts Review last year. An excerpt from L'Anatomia della battaglia, translated by Frederika Randall, appeared in The Arkansas International no 2.

Translator Frederika Randall grew up in Pittsburgh and has lived in Italy for 30 years (also New York and London). She has worked as a cultural journalist for The New York Times, the Wall Street Journal, the Nation and the Italian weekly Internazionale among others. Her translations from the Italian include fiction by Luigi Meneghello, Ottavio Cappellani, Helena Janeczek, Davide Orecchio, Igiaba Scego and the epic tale of the Risorgimento, Ippolito Nievo's Confessions of An Italian. Other translations include historian Sergio Luzzatto's The Body of Il Duce, and his Padre Pio: Miracles and Politics in a Secular Age, for which she and the author shared the Cundill Prize for History in 2011 and his Primo Levi's Resistance, 2016, about the great Holocaust witness's experience as a partisan in northwest Italy. Her translation of Guido Morselli's novel The Communist for New York Review Books was published in Aug. 2017 (excerpts appeared in Chicago Quarterly Review EuropeNow.) Awards include a PEN (Heim) Translation Fund award, 2009, and a Bogliasco Fellowship, 2013. More at frederikarandall.wordpress.com.
Praise For…
---
"The narrator of Sartori's hilarious, insightful novel, his first to be published in English, is none other than God, a proper monotheistic deity stirred in a very human way by one of his own creations.... On page after laugh-out-loud page, this articulate God—and author—cover just about every cynical and lofty concept concerning one's own existence that humans ever pondered. This is an immensely satisfying feat of imagination."
— Publishers Weekly, Starred Review
"Who better to reflect on the state of the planet than its creator?
I Am God
is by turns funny, sad, outrageous, and tender—a cosmic romp."
— Elizabeth Kolbert, Pulitzer prize-winning author of The Sixth Extinction
"
I am God
is like a mirthful dream made real by the ingenuity of Sartori's prose and Randall's splendidly pointed and sly translation."
— Elizabeth McKenzie, author of The Portable Veblen
"A playful, exciting, mockingly modern voice, translated, what's more, by one of the few translators who can really make the Italian vernacular sing truly and fluently in English."
— Tim Parks, author of Italian Ways and Italian Neighbors
"In this riotous philosophical romp, Sartori has invented an omniscient narrator like no other and an identity crisis with truly cosmic implications. Poignant, hilarious, and serious by turns, this is a jeu d'esprit with both heart and mind."
— Eva Hoffman, author of Lost in Translation
"What a funny, smart book that tweaks a kind of philosophical view of 'God's' work against the quandary of said God falling in love with an odd young woman scientist, which throws him off his game. You've got to love both his problem and his surprise at his compulsion to drift back into it regularly while he discourses on the waywardness of humans in general. Giacomo Sattori is a wizard here with the way his light touch in fact is anything but, providing readers with a most entertaining read full of necessary, shall we say, unexamined hubris on the part of all characters within our author's focus. What a refreshing delight."
— Sheryl Cotleur, Copperfield's Books (Sebastopol, CA)
"
I Am God
is an almost outrageously charming book…. Giacomo Sartori takes a simple, playful premise and sets the universe crazily spinning. The Italian writer has conjured up a delicious, comical stream of omniconsciousness: a pensive diary by the original omniscient narrator, God. Sartori's God, a being of authentic complexity and paradoxical humanity, of both otherworldly dignity and satirical absurdity, is an irresistible character…. His withering pronouncements resemble the dry, intelligent wit of a celestial Oscar Wilde more than the crash of vengeful thunderbolts from on high. And his aim is true…. Sartori's humor, godlike, infus[es] every part of the book from the premise to the plot to the venal, amiably clueless characters to the language of the diary narrated in the celestial being's intelligent, deadpan voice.… The elegant, easy-going translation by Frederika Randall is convincing and conversational, reveling in the diary's asides, footnotes, and parentheses in which God is constantly setting the record, and the reader, straight…. Sartori has bestowed on us a narrative that is both comforting and disconcerting. His main character is preposterous and genuine, a supremely confident supreme being discovering the immensity of human insignificance, the wonders of confusion and vulnerability, the limitless frustrations of language and love and, of course, sex…. He's large, he contains multitudes, and he is the ultimate unreliable narrator."
—Cathleen Schine,
New York Review of Books
— Cathleen Schine
"This novel is an utterly serious and wildly comic test of the strange idea we take for granted in reading prose fiction—the pretense of the omniscient narrator.... By speaking in the voice of God, Sartori has simplified the premise and complicated the result of writing as such…. This God [is] the brilliant, hilarious, and utterly believable creation of Sartori."
—James Livingston,
The New Republic
— James Livingston
"Delightful, strikingly current, infectiously readable.... The irrational pull of erotic love has never had a funnier incarnation than the one in
I Am God
…. Sartori pulls out all the stops in a long tradition of first-person confessions by the Creator, beginning with the Ten Commandments… Transcending mere blasphemy, Sartori refuses to take the Lord's name in vain. Every little chapter of
I Am God
forces the reader to decide whether laughter or outrage is the proper response. There's a grand tradition of Italian artists (Dante, Michelangelo, Verdi) who shock us with their new and unsettling images of God. In his modest and profound way, Sartori belongs in this terrific company."
—Michael Alec Rose,
BookPage
— Michael Alec Rose
"
I Am God
is compulsively readable, with passages so crisp and funny that readers will want to read them aloud. Sartori, an Italian scientist, has written a book that, beyond its philosophical wit, draws attention to hypocrisy in all forms."
—Cindy Pauldine, the river's end bookstore (Oswego, NY)
— Cindy Pauldine, River's End Bookstore, Oswego, NY
"God, famously upstaged by Satan in Milton's
Paradise Lost
, gives a livelier performance in Giacomo Sartori's
I Am God
(Restless, Feb.), his first novel to be translated from Italian into English."
—Matt Seidel,
Publishers Weekly Writers to Watch: Spring 2019
— Matt Seidel
"A highly original novel, showing that there is, thankfully, more to Italian fiction than Elena Ferrante." —Howard Davies, Financial Times, Best Books of 2019: Critics' Picks
— Howard Davies