Angel in the Fog (Lincoln's Bodyguard Series #3) (Hardcover)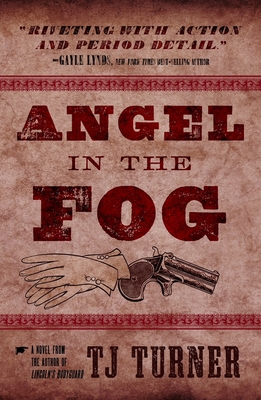 $29.65

Special order - we'll let you know how long!
Description
---
Perfect for fans of espionage thrillers, historical fiction, and indefatigable female protagonists—
Molly Ferguson's comfortable life unravels when her Louisiana home is burned to the ground, her family murdered, and she is enslaved in a Baltimore brothel. Amidst the threat of the Civil War, Molly learns of secessionist plans to assassinate President-elect Abraham Lincoln as he makes his way to Washington for his inauguration. She's manages to pass this information on to a Pinkerton agent posing as a client. Impressed with her fortitude and intelligence, the Pinkerton Agency arranges for Molly's freedom and brings her under the tutelage of Mrs. Kate Warne, America's first female detective. After they save Mr. Lincoln in Baltimore, Molly is sent by the Pinkerton Agency into the Deep South—where the Civil War now rages—a spy behind enemy lines.
Molly threads a thin line between revenge and redemption as she races to unravel a sinister plan that will doom the Union and allow the Confederacy to win the Civil War—while coming face to face with the demons from her tragic past.
About the Author
---
TJ Turner is an award-winning novelist, a historian, a research scientist, and a federal Agent. He has a PhD in Mechanical Engineering and Material Science from Cornell University. As a reserve military officer, he served three tours in Afghanistan and was awarded the Bronze Star Medal twice (2013 and 2017). Angel in the Fog is Turner's third novel and a prequel to Lincoln's Bodyguard and Land of Wolves. Turner's novels have won the Darrell Award for Best Mid-South Novel, the International Book Award for Historical Fiction, the Best Book Award for Historical Fiction, and the Military Writers of America Silver Medal. Turner lives in central Ohio, with his wife, Nancy, and three children.
Praise For…
---
"Superb historical fiction with a wonderful and inspiring main character in Molly Ferguson. Very highly recommended." — Lee Child, New York Times best-selling author

"Suspenseful and rich with historical detail, Angel in the Fog by TJ Turner brings the Civil War to fire-breathing life. A young prostitute's discovery of a conspiracy to murder president-elect Abraham Lincoln sets her on a daring path to help the Pinkerton agency save the president's life, and soon she becomes one of America's first female private detectives. This is a grand yarn that will rivet you to your reading chair." — Gayle Lynds, New York Times best-selling author

"In TJ Turner's Angel in the Fog, we're in for a heart-stopping, page-turning, and thrilling story as we follow the exploits of Molly—a feisty, fascinating, and fierce heroine if ever there was one. But there's more to Molly's story than excitement. It's an insightful exploration of the resourcefulness of the human heart when tested by the most difficult of circumstances—and, ultimately, the redemptive power of forgiveness." — Jess Montgomery author of The Widows