The Heart Remembers: A Novel (Paperback)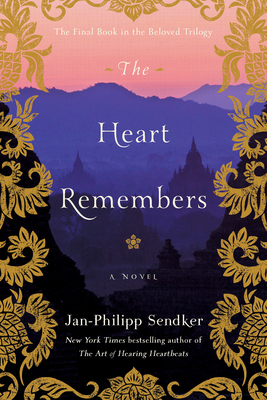 Description
---
The highly anticipated final book in the internationally bestselling The Art of Hearing Heartbeats trilogy, a moving story about love's power to transcend distances and heal seemingly irreparable wounds.

Twelve-year-old Ko Bo Bo lives with his uncle U Ba in Kalaw, a town in Burma. An unusually perceptive child, Bo Bo can read people's emotions in their eyes. This acute sensitivity only makes his unconventional home life more difficult: His father comes to visit him once a year, and he can hardly remember his mother, who, for unclear reasons, keeps herself away from her son.

Everything changes when Bo Bo discovers the story of his parents' great love, which threatens to break down in the whirlwind of political events, and of his mother's mysterious sickness. Convinced that he can heal her and reunite their family, Bo Bo decides to set out in search of his parents.

A gripping, heartwarming tale that takes the reader from Burma to New York and back, The Heart Remembers is a worthy conclusion to Jan-Philipp Sendker's beloved series.
About the Author
---
Jan-Philipp Sendker, born in Hamburg in 1960, is an internationally bestselling author. He was the American correspondent for Stern from 1990 to 1995, and its Asian correspondent from 1995 to 1999. His first novel, The Art of Hearing Heartbeats, was published in 2012, and the sequel, A Well-Tempered Heart, appeared in 2014.

Kevin Wiliarty has a BA in German from Harvard and a PhD from the University of California, Berkeley. A native of the United States, he has also lived in Germany and Japan. He is currently a Web developer at Hampshire College in Amherst, Massachusetts. He lives in Connecticut with his wife and two children, and also plays bass in a string band.
Praise For…
---
"With a sensitive touch, Jan-Philipp Sendker explores the unspoken deep currents running beneath love: trauma, the disparity of privilege, and sacrifice for family and country. The Heart Remembers is a beautiful story enfolding a ferocious heart." —Shawna Yang Ryan, author of Green Island

Praise for The Art of Hearing Heartbeats:

"A lush tale of romance and family set in mid-twentieth-century Burma...beautiful...bound to enchant readers." —Booklist

"Magical...It's stories like The Art of Hearing Heartbeats that show how our very existence is important...What a gift that is." —Huffington Post

"Brilliant...Sendker's novel proves to be a love story of the most masterful variety...Coupled with an unusual glimpse into the Burma of the 1950s and today, readers will delight in the emotional power of Sendker's storytelling." —Shelf Awareness

"No matter what I even attempt to say, I can't possibly capture the absolute magic of this book. Like a spell, it haunts. Like love, it's going to endure." —Caroline Leavitt, New York Times bestselling author of Pictures of You