The Disney Monorail: Imagineering a Highway in the Sky (Disney Editions Deluxe) (Hardcover)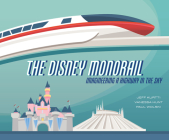 $40.00

We can get this for you pretty soon!
Description
---
Deluxe jacketed hardcover book offers a lavish visual celebration of one of Disney's most impactful and beloved creations: the Disney Monorail.
Walt Disney is renowned as a cartoonist, filmmaker, showman, and entertainment icon. But he was also a farsighted futurist, a transportation buff with practical roots in the past, and visionary sights set on the future. In imagining Disneyland, Walt saw it not only as a destination for diversion and entertainment, but also as a means of presenting practical demonstrations of new ideas and new technology with real-world applications.
In The Disney Monorail: Imagineering a Highway in the Sky, readers will discover the parallel stories of the development of a new form of transportation and the evolution of Walt's prophetic creative mind, which together resulted in the first daily operating monorail in the Western Hemisphere. Since June 1959, this mid-century modern marvel has captured the hearts and imaginations of theme park and Disney fans everywhere; it has inspired, as Walt hoped, the creation of working monorails in practical transit applications in varied locations all around the world.
Through a lively and succinct narrative and a stunning collection of unique historical photographs and rare concept and development art (much of it never before published) readers will be transported into a future where yesterday's dreams are tomorrow's realities!
Searching for that perfect gift for the Disney theme park fan in your life? Explore more archival-quality books from Disney Editions: • Holiday Magic at the Disney Parks • Walt Disney's Ultimate Inventor: The Genius of Ub Iwerks • One Day at Disney: Meet the People Who Make the Magic Across the Globe • Marc Davis in His Own Words: Imagineering the Disney Theme Parks • Yesterday's Tomorrow: Disney's Magical Mid-Century • Eat Like Walt: The Wonderful World of Disney Food • Maps of the Disney Parks: Charting 60 Years from California to Shanghai • The Haunted Mansion: Imagineering a Disney Classic • Poster Art of the Disney Parks
About the Author
---
JEFF KURTTI is a leading authority on The Walt Disney Company, its founder, and its history. He is the author of more than thirty books, a writer-director of award-winning documentary content, and a respected public speaker. Since 1995, Kurtti has enjoyed a career as an author and consultant in the motion picture, theatre, and theme park entertainment industries. He was creative director, content consultant, and media producer for The Walt Disney Family Museum and a producer of The Boys: The Sherman Brothers Story.
VANESSA HUNT is a Walt Disney Imagineer and a lifelong Disney aficionado. Her education is in art history, and she is part of the group responsible for the more than 160,000 pieces of original artwork preserved in the Walt Disney Imagineering Art Collection. She has been curator of several Imagineering exhibits featuring many of the works from the Art Collection, and has consulted for The Walt Disney Family Museum. Vanessa is also the coauthor of the wildly popular volumes Poster Art of the Disney Parks (2012) and Maps of the Disney Parks (2016), as well as a designer on Marc Davis in His Own Words: Imagineering the Disney Theme Parks (2019).
PAUL WOLSKI is a graphic designer, creative director, and illustrator whose career began in environmental graphics with Walt Disney Imagineering. He served as character illustrator for all signage in Mickey's Toontown at Disneyland and provided character graphics for Tokyo Disneyland and what is now known as Disney's Hollywood Studios in Florida. After two decades of working in publishing and retail design, Paul has returned to Disney as a book designer, collaborating with Jeff Kurtti on From All of Us to All of You: The Disney Christmas Card (2018) and working with Hunt on Marc Davis in His Own Words: Imagineering the Disney Theme Parks (2019).




Praise For…
---
"The Disney Monorail: Imagineering a Highway in the Sky shows really how much a visionary Walt was in terms of transportation as he was in many other ways. He knew what he wanted, and as Bob Gurr said, it was 'serendipity' in how the Disneyland monorail came to be. This is a FANTASTIC book, it will be in my top three Disney books of the year, I'm sure—the artwork and pictures make it a must-have."—MouseSteps.com

"As a collector of Disney-themed books, The Disney Monorail: Imagineering a Highway in the Sky will be placed proudly on my bookshelf as one of my absolute . . . It is a work of art and deserves to be both read and viewed. But beyond the world of Disney, it is a fascinating look into the development of a transportation mode that has sparked the imagination on mankind for nearly two centuries."—Craig D. Barton, Communerdy.com

"Monorails hold a special place in the hearts of Disney fans, and Disney Editions has created a book that will appeal to many. . . . Written by Jeff Kurtti and Vanessa Hunt and designed by Paul Wolski, this book is a visually gorgeous journey . . . It is stuffed with stunning color photographs, as well as drawings, sketches, and paintings from Disney Legends such as Herb Ryman, Marvin Davis, and John Hench. The Disney Monorail: Imagineering a Highway in the Sky is as much of an art book as it is a book on Disney history."—DisneyMatters.com

"On almost every page of this 208-page volume you will find concept art, historical photos, and graphic art that would distinguish the walls of any Disney fan's home. It seems a shame to keep them hidden inside a book, where you can ogle no more than two pages at a time . . . Want to know the differences between each of the Mark series monorails that have run in the Disney parks? The service dates for each monorail train? The Disney Monorail delivers."—Robert Niles, ThemeParkInsider.com

". . . incredibly informative and gorgeously designed . . . the perfect fix for those who haven't been able to visit the parks this year and for anybody who has ever been captivated by the glittery, futuristic 'highway in the sky.'"—Drew Taylor, Collider.com

PRAISE FOR FROM ALL OF US TO ALL OF YOU: THE DISNEY CHRISTMAS CARD

". . . a perfect gift for any Disney fan (even if it's you, yourself)."—<strong>Leonard Maltin</strong>, film critic and historian

PRAISE FOR FROM ALL OF US TO ALL OF YOU: THE DISNEY CHRISTMAS CARD

"There are ordinary Christmas cards, and then there are Disney Christmas cards."—<strong>Reader's Digest</strong><div></div>

PRAISE FOR FROM ALL OF US TO ALL OF YOU: THE DISNEY CHRISTMAS CARD

"This is a book I have wanted to own for about the last 20 years! . . . ready be picked and arranged on your Christmas mantelpiece!"—<strong>Brian Sibley</strong>, writer, broadcaster, and Disney scholar

PRAISE FOR PRACTICALLY POPPINS IN EVERY WAY

"Practically Poppins goes above and beyond the mandate of a movie tie-in to become a valuable book for any Mary Poppins fan."—<strong>Leonard Maltin</strong>, film critic and historian

PRAISE FOR PRACTICALLY POPPINS IN EVERY WAY

"This coffee table–worthy book by Jeff Kurtti is much more than a visually appealing celebration of the franchise."—<strong>Broadway Direct</strong>

PRAISE FOR THE ART OF DISNEY COSTUMING

"Explore the characters, stories, history, and currency of Disney in a whole new way. . . ."—<strong>Nerds and Beyond</strong>

PRAISE FOR THE ART OF DISNEY COSTUMING

One of "20 Books Every True Disney Fan Should Have in Their Collection"—<strong>POPSUGAR</strong>

PRAISE FOR THE ART OF MULAN

". . . chronicles the production team's research trip to China and the creative development of the pic . . ."—<strong>Variety</strong>

PRAISE FOR TRAVELS WITH WALT DISNEY

". . . no small feat to do what Jeff Kurtti has done . . ."—<strong>Jason Cochran</strong>, Editor-in-Chief, <strong>Frommers.com</strong><div></div>

PRAISE FOR TRAVELS WITH WALT DISNEY

"Highly recommended!"—<strong>John Canemaker</strong>, NYU professor and head of Animation Studies

PRAISE FOR TRAVELS WITH WALT DISNEY

One of "20 Books Every True Disney Fan Should Have in Their Collection"—<strong>POPSUGAR</strong>

"A great gift not just for Disney fans, but for any transit enthusiast . . ."—Attractions Magazine