The Lost Village: A Novel (Hardcover)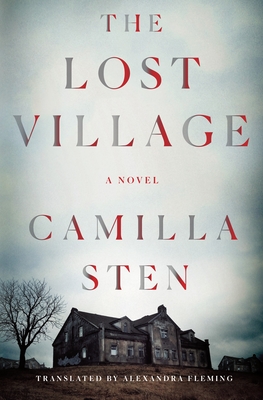 $26.99

We can get this for you pretty soon!
Staff Reviews
---
A filmmaker goes deep into the hinterland to make a documentary about the residents who vanished from Silvertjarn back in 1959. What she finds is more horrifying than she could ever have imagined. Dark and eery and will haunt you long after you've finished it. I really think this is the horror I've been looking for. Recommended by Rob
— From
Books We Love: Fiction
April 2021 Indie Next List
---
"Hearing this book described as a cross between The Blair Witch Project and Midsommar meant I could not grab it fast enough. This chilling novel, set in a remote village in Sweden, tells the story of a scrappy documentary film crew trying to find out why the entire town disappeared many years ago. The camp they set up in the town square is immediately beset with mysterious happenings that become less and less harmless. Tension mounts as they explore the mystery of where the residents of Silvertjarn went and wonder if they will meet the same fate."
— Andrea Richardson, Fountain Bookstore, Richmond, VA
Description
---
*BEST MYSTERY/THRILLER FOR THE YEAR* for NPR

"Come for the mounting horror and scares, but stay for a devastating examination of the nature of family secrets." - New York Times book review

"[A] scary, highly entertaining debut...that pays homage to Shirley Jackson." - South Florida Sun Sentinel

A Most Anticipated Book Goodreads * Publishers Weekly * Crime Reads * Popsugar * Bookish * #1 Loanstar Pick in Canada

An Indie Next pick!

A Library Reads Pick!

The Blair Witch Project meets Midsommar in this brilliantly disturbing thriller from Camilla Sten, an electrifying new voice in suspense.

Documentary filmmaker Alice Lindstedt has been obsessed with the vanishing residents of the old mining town, dubbed "The Lost Village," since she was a little girl. In 1959, her grandmother's entire family disappeared in this mysterious tragedy, and ever since, the unanswered questions surrounding the only two people who were left—a woman stoned to death in the town center and an abandoned newborn—have plagued her. She's gathered a small crew of friends in the remote village to make a film about what really happened.

But there will be no turning back.

Not long after they've set up camp, mysterious things begin to happen. Equipment is destroyed. People go missing. As doubt breeds fear and their very minds begin to crack, one thing becomes startlingly clear to Alice:

They are not alone.

They're looking for the truth…
But what if it finds them first?

Come find out.

"RELENTLESSLY CREEPY." —Alma Katsu, author of The Hunger (An NPR Best Horror Novel)

"IMPOSSIBLE TO STOP READING." —Ragnar Jonasson, author of The Island

"Readers will revel in the chills." - Booklist
About the Author
---
CAMILLA STEN (she/her) has been writing stories since she was a young girl and is famously one of the most important sounding boards for her crime-writing mother, Viveca Sten. In 2019, she stepped out of her mother's shadow and published the now internationally acclaimed, hair-raising novel "The Lost Village." Rights for "The Lost Village" have been sold to seventeen territories around the world including film and TV. The book was one of seven shortlisted for the best translated crime award on ThrillZone.nl and was on the Polish Goodreads shortlist for The 2019 Best Book Award in the horror category. An ever prolific author, Camilla is already working on her next psychologically intense suspense novel, all while travelling the world and putting the finishing touches on the first part of her dark and atmospheric YA series.
Praise For…
---
"Come for the mounting horror and scares, but stay for a devastating examination of the nature of family secrets." - New York Times book review

"THE LOST VILLAGE draws you in with its spooky premise--the disappearance of an entire town--but great atmospherics and unexpected twists keep you turning the pages. For fans of haunted reality TV shows, Scandinavian thrillers, and all things relentlessly creepy." -- Alma Katsu, author of The Deep and The Hunger

"Very atmospheric and engaging mystery from a new and exciting voice in Scandinavian crime. The reader is drawn into a unique setting from page one and it is impossible to stop reading." - Ragnar Jonasson, author of The Island

"An enthralling and claustrophobic read. Camilla Sten has written a lurid thriller that will send shivers down your spine." – M.T. Edvardsson, author of A Nearly Normal Family

"This gripping psychological thriller is sure to please fans of Shirley Jackson and cinema verité–styled horror." - Publishers Weekly

"Very hard to put down...delivers maximum dread with remarkable restraint, and as the situation goes from bad to worse to terrifying, readers will revel in the chills." - Booklist

"Deliciously creepy and profoundly addictive." - The Free Lance Star

"Legitimately scary." - Air Mail

"The suspense in this book is off the charts." - Manhattan Book Review

"[A] scary, highly entertaining debut...that pays homage to Shirley Jackson." - South Florida Sun Sentinel

"Welcome to the world of Camilla Sten...impossible to forget." - Criminal Element