When All Is Said: A Novel (Hardcover)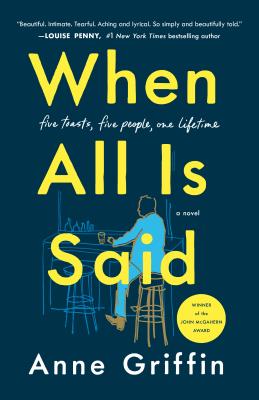 $26.99

Special order - we'll let you know how long!
March 2019 Indie Next List
---
"Dark and unflinching yet packed with heart and humanity, When All Is Said is Irish storytelling at its best. Maurice Hannigan sits in a bar on a Saturday night and toasts five people who have been important in his life and who have left him, either through death or distance. The 84-year-old widower spools out his story like tangled fishing line, raising one glass to each of his departed loved ones. It all leads up to a startling yet inevitable end to an unsettling yet satisfying story."
— Grace Harper, Mac's Backs, Cleveland Heights, OH
Description
---
THE INTERNATIONAL BESTSELLER & INDIE NEXT PICK

"Griffin's stunning debut, brimming with irresistible Irish-isms, is an elegy to love, loss and the complexity of life." –People Magazine

One of Goodreads' 43 Most Anticipated Reads of 2019

"Beautiful. Intimate. Tearful. Aching and lyrical. So simply and beautifully told." –Louise Penny, #1 New York Times bestselling author

"I'm here to remember–all that I have been and all that I will never be again."

If you had to pick five people to sum up your life, who would they be? If you were to raise a glass to each of them, what would you say? And what would you learn about yourself, when all is said?

At the bar of a grand hotel in a small Irish town sits 84-year-old Maurice Hannigan. He's alone, as usual ­- though tonight is anything but. Pull up a stool and charge your glass, because Maurice is finally ready to tell his story.

Over the course of this evening, he will raise five toasts to the five people who have meant the most to him. Through these stories - of unspoken joy and regret, a secret tragedy kept hidden, a fierce love that never found its voice - the life of one man will be powerful and poignantly laid bare.

Beautifully heart-warming and powerfully felt, the voice of Maurice Hannigan will stay with you long after all is said and done.
About the Author
---
ANNE GRIFFIN is the winner of the John McGahern Award for Literature. Shortlisted for the Hennessey New Irish Writing Award and The Sunday Business Post Short Story Competition, Anne's work has been featured in, amongst others, The Irish Times and The Stinging Fly, and she had an eight year career at Waterstones. Anne lives in Ireland with her husband and son. When All Is Said is her debut novel.
Praise For…
---
"Beautiful, yet heartbreaking"—US Weekly

"An impressively confident debut novel." —The Guardian

"An accomplished debut. A sensitive layered description of grief and regret...excellent." —Minneapolis Star Tribune

"Explores with humor and heart...Beautifully realized." —Lit Hub

"There's something special here." —John Boyne, New York Times bestselling author of The Boy in the Striped Pajamas

"This is how you tell a story." —Cecelia Ahern, New York Times bestselling author of PS, I Love You

"When All Is Said catches a world in a moment. Maurice Hannigan is a wonderful invention, whose bitter-sweet meditations will stay long in the reader's mind. Anne Griffin has fashioned a rare jewel." —John Banville, New York Times bestselling author of Time Pieces and Man Booker Prize award-winning author of The Sea

"In the twilight of his long and eventful life, Irishman Maurice Hannigan still possesses the deep and mellow voice that his grandmother once told him 'could melt icebergs—a voice that debut author Anne Griffin renders with wit, verve, and endearing irascibility. When All Is Said captures the texture of a night catching up with an old friend—the pleasures and comforts, the stories and surprises—one that you never want to end, and all the more bittersweet because you know, of course, that it must." —Kathleen Rooney, bestselling author of Lillian Boxfish Takes a Walk

"Anne Griffin's debut novel is a must read. Beautifully observed, masterful story telling - stunning!" —Graham Norton, award-winning author

"When All Is Said is lovely. I'm a sucker for structure and the conception of this novel, told around five toasts is just wonderful, it gives you that sense of a whole life, of someone accounting for themselves and their decisions, it takes a firm grip and draws us in. It is beautifully written, unhurried and thoughtful, a lonely man truthfully wrought and a character you love from the off, in spite of his flaws or maybe because of them." —Kit de Waal, bestselling author of My Name is Leon

"Maurice Hannigan is one of those rare and unforgettable characters whose lives we enter, inhabit for a time all too brief, and emerge from deeply changed. Anne Griffin is a writer with a bright, bright future." —National Book Award finalist Janet Peery

"A deceptively powerful tale. Beneath the surface of seemingly simple lives lie stunning stories of love, heartbreak, humor, hope, tragedy, regret, and—most of all—humanity." —Viola Shipman, international bestselling author of The Summer Cottage and The Charm Bracelet

"When All Is Said is a hugely enjoyable, engrossing novel, a genuine page-turner. Maurice is a fabulous character, wonderfully flawed and completely engaging; his voice is familiar and real, full of sadness and regret and defiance, and unexpected tenderness." —Donal Ryan, award-winning author of The Spinning Heart

"It is difficult to believe that When All Is Said is a first novel, as Anne Griffin displays such an assured hand at locating and maintaining the voice of our lead character, Maurice Hannigan. An old widower, Hannigan picks a night at the local pub and toasts the five people who influenced his life in the most important ways, and, in the process, gives an oral first person history of his own life—both the truthful and the delusional. With an impeccable eye, Anne Griffin picks out details from seemingly-unimportant moments in a life that become so much more in her capable hands. Each toast brings a new facet of Hannigan's life into focus, sometimes shining a light on things he would rather keep buried deep within himself, and the result is quite lovely. I truly felt as if I were in a country pub, sitting with the county raconteur, and I enjoyed his company immensely!" —Bill Carl, Wellesley Books

"The Irish prequel of A Man Called Ove" —Susan Taylor, Book House of Stuyvesant Plaza

"Griffin's portrait of an Irish octogenarian provides a stage for...the course of one memorable night."—Kirkus

"Highly recommended; this unforgettable first novel introduces Griffin as a writer to watch." —Library Journal Starred Review

"Pitch-perfect prose…Moving and beautifully written, this is a wonderfully assured debut." —Mail on Sunday

"It's all beautifully done; a tale told in the plain but poetic prose of a man who recognises the tragic truths gleaned from a life of love and loss. A gem of a book." —Sunday Express, Five Star Review

"Griffin's deeply moving debut novel highlights the power of nostalgia, the pang of regret, and the impact that very special individuals can have on our lives." —Booklist

"An atmospheric debut…The most impressive aspects of this first novel are its rich, flowing prose, it's convincing voice and it's imaginative and clever structure…Griffin is a welcome arrival to the literary scene." —Irish Times

"A heartfelt and impressive debut novel." —Sunday Business Post

"A proper tear-jerker, but one that will ultimately leave you feeling hopeful." —Grazia

"A beautifully written, perfectly paced, heartfelt novel." —Saga Magazine

"Maurice is a likable and complex character with a voice that readers will be drawn to" —Publishers Weekly

"When All Is Said strongly recalls Graham Swift's classic Last Orders. Like that novel it fearlessly contemplates the omnipresence of the past, and the irreparable damage of secrets and lies." —Irish Examiner

"This novel is as candid a portrait of human frailty as you're likely to find. Griffin is uncannily accurate in her depiction of that peculiarly Irish emotional paralysis we're all familiar with. Maurice could be anyone's relative" —Sunday Independent