The No Plot? No Problem! Novel-Writing Kit (Kit)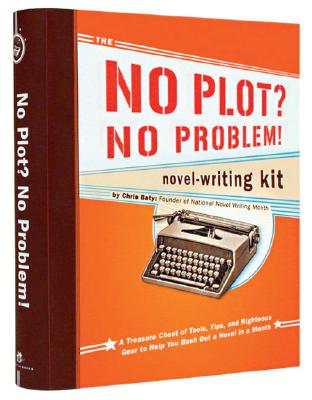 $22.95

Special order - we'll let you know how long!
Description
---
Aspiring novelists don't need an MFA in creative writing, a book agent, an airtight plot, or a winsome cast of characters to get a novel writtenthey don't even need to know what they're doing. All that's needed is a little determination and this high-octane kit to kick motivation into overdrive and inspire users to produce a 50,000-word book in an exhilarating, invigorating month long Noveling Adventure.
Includes:
48-page booklet
31 Daily Noveling Briefsrecommended allowances of writing advice and activities for every day of the noveling month
Guided, month long, displayable log for keeping track of progress
Motivational materials, pep-talking letters, and commitment coupons
The Mighty Badge of the Triumphant Wordsmith
About the Author
---
Author Chris Baty is a writing cheerleader who founded National Novel Writing Month in 1999. Since then, the November writing escapade has grown to include 60,000 participants from all over the world.