Pride and Puzzlement: A Jane Austen Puzzle: A 1000-Piece Jigsaw Puzzle Featuring Literature's Most Beloved Characters and Couples: Jigsaw Puzzles for Adults (Game)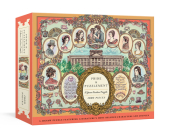 Description
---
A gorgeous 1000-piece jigsaw featuring hand-drawn characters from Jane Austen's enduring novels.

From noted Jane Austen artist Jacqui Oakley, this whimsical 1000-piece puzzle brings Austen's work to life. Featuring characters from Austen's most beloved novels like Elizabeth Bennet and Mr. Darcy from Pride and Prejudice, Emma and Mr. Knightley from Emma, Elinor and Marianne Dashwood from Sense and Sensibility, and more, this puzzle is perfect for both longtime fans and Austen newbies.
About the Author
---
Jacqui Oakley is an artist and illustrator whose clients include The New York Times, Rolling Stone, National Geographic, Financial Times (UK), The Globe and Mail, Penguin Books, USPS, Chevrolet, and more. She is the author of Color Me Jane and A Jane Austen Tarot Deck and lives in Ontario with her husband.