Awards for Good Boys: Tales of Dating, Double Standards, and Doom (Paperback)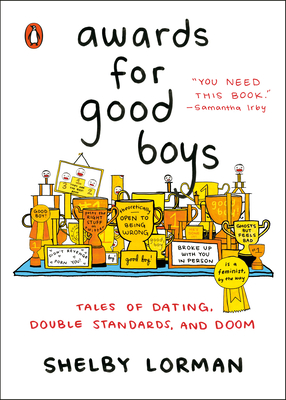 $16.00

We can get this for you pretty soon!
Staff Reviews
---
A candid, cutting, hilarious, and oh-so-relatable take down of our tendency to celebrate dudes for doing the bare minimum. Stories and comics of bad texts, gaslighting, trash cats, dogpiles, Pygmalion, and more! Recommended by Molly
— From
Our Favorite Non-Fiction for Adults
Description
---
"Shelby and her art are extremely my shit. You need this book." —Samantha Irby, New York Times bestselling author of We Are Never Meeting in Real Life

"The rare Instagram-turned-book that actually works." —Jezebel

A wickedly funny illustrated look at living and dating in a patriarchal culture that celebrates men for displaying the bare minimum of human decency

Surely you're familiar with good boys. They're the ones who put "feminist" in their Tinder bio but talk over you the entire date. They ghost you, but they feel momentarily guilty. They once read a book by a woman author. (It was required, but they thought it was "okay.") And of course, they bravely condemn sexual harassment (except when the perpetrator is their buddy Chad).

This book explores why so-called and self-proclaimed good boys are actually not so great, breaking down our obsession with celebrating male mediocrity and rewarding those who clear the very low bar of not being outwardly awful. Through clever illustrations and written vignettes, Awards for Good Boys makes literal the tendency to applaud men for doing the absolute least and offers hilarious and cathartic cultural commentary through which we may begin to unravel our own assumptions about gender roles and how we treat each other, both on and offline.
About the Author
---
Shelby Lorman is a writer, illustrator, and comedian from Los Angeles, and the creator of the Instagram sensation @AwardsForGoodBoys. Her writing has appeared on The Cut, The Daily Beast, CNN, and Business Insider. Her illustrations have been featured by Comedy Central, Vice, The Independent, and The Huffington Post. She lives in New York.
Praise For…
---
"Shelby and her art are extremely my shit. You need this book."
—Samantha Irby, New York Times bestselling author of We Are Never Meeting in Real Life

"[Shelby Lorman] wants us to think—and laugh—about the norms of dating and masculinity. Awards for Good Boys . . . is a rueful sigh, less instruction manual than recalibration of standards for male behavior."
—Time Magazine

"The rare Instagram-turned-book that actually works. . . . An enjoyable read that is quick, yet poignant and nuanced, much like Lorman's comics. . . . Lorman isn't afraid to say the hard thing. . . . Awards for Good Boys expertly walks the line between superficial and damning. . . . Lorman's analyses of human behavior are smart and well-crafted . . . and that self-awareness is something to celebrate."
—Jezebel

"On-point comics, which skewer bad dating behavior."
—Elle

"Hilarious . . . a perfect moment to celebrate the tragicomic—or find humor in life's darkened corners."
—Vice

"[One of] this month's best new books . . . like nothing you've ever read before."
—PureWow

"A witty pocket-size feminist treatise."
—Shelf Awareness

"Funny . . . emotionally intelligent and compassionate. . . . The gift of Awards for Good Boys lies in the way it lightly bops you on the head with the clarity you need to see through the madness disguising itself as acceptable."
—BookPage

"A master class in pithy sick burns. . . . A good read for feminists who need to laugh so they don't cry."
—Booklist

"While Lorman's illustrations take center stage, the written vignettes add personal background that her fans will appreciate. . . . Lorman's Instagram followers will enjoy her commentary on the more subtle side of misogyny."
—Publishers Weekly