The Dream Peddler: A Novel (Paperback)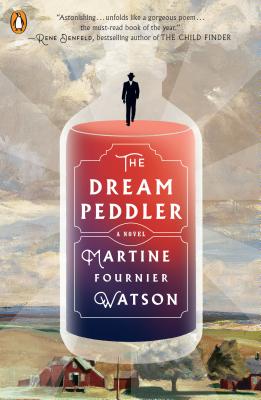 $16.00

Special order - we'll let you know how long!
Staff Reviews
---
Remember what it was like as a child to be transfixed by a book? Regain that magic with this tale. The author's enchanting language casts as much as a spell as the story itself. Recommended by Jeanette
— From
Books We Love: Fiction
Description
---
"Astonishing . . . Explores the vast underground legacy of our own desires. This is the must-read book of the year." —Rene Denfeld, bestselling author of The Child Finder

A richly imagined debut novel about a traveling salesman and the small town he changes forever

If someone offered you a magic elixir that could conjure any dream you wanted . . . would you take it?

Traveling salesmen like Robert Owens have passed through Evie Dawson's town before, but none of them offered anything like what he has to sell: dreams, made to order, with satisfaction guaranteed.

Soon after he arrives, the community is shocked by the disappearance of Evie's young son. The townspeople, shaken by the Dawson family's tragedy and captivated by Robert's subversive magic, begin to experiment with his dreams. And Evie, devastated by grief, turns to Robert for a comfort only he can sell her. But the dream peddler's wares awaken in his customers their most carefully buried desires, and despite all his good intentions, some of them will lead to disaster.

Gorgeously told through the eyes of Evie, Robert, and a broad cast of fully realized characters, The Dream Peddler is an imaginative, moving novel of overcoming loss and reckoning with the longings we keep secret.
About the Author
---
Martine Fournier Watson is originally from Montreal, Canada, where she earned her master's degree in art history after a year in Chicago as a Fulbright scholar. She currently lives in Michigan with her husband and two children. The Dream Peddler is her first novel.
Praise For…
---
"Watson has [created] a compelling story focused on the concepts of imagination, identity, and accountability. Her characters are complex and well rounded, and her setting . . . is an evocative mix of idyllic and repressed. With some lovely prose, intense imagery, and deft handling of magical realism, The Dream Peddler is a strong debut from an impressive new artist. . . . A haunting and evocative story of strength and weakness in the face of devastating loss."
—Shelf Awareness

"Awash in poetic language and remarkable characters . . . A mesmerizing story forged by breathtaking prose, Watson's novel is an intoxicating exploration of desire and loss."
—Dianca London Potts, Read it Forward

"The Dream Peddler is like a sweet dream that you don't want to forget. . . . [It] effortlessly walks the line between that which is real and familiar and that which is extraordinary and new. . . . Sometimes funny, sometimes heartbreaking, and always fascinating."
—Hypable

"Like a latter-day Ray Bradbury, Watson stakes out similar homespun fantastic territory in her debut. . . . Watson populates her novel with a vibrant cast and does an excellent job of capturing the loneliness and repression of small-town life. This is a winning novel with broad appeal."
—Publishers Weekly

"Fournier Watson's tale is gorgeous and carefully paced, with subtle tensions among the townspeople and lush descriptions of the natural world. Themes of coming and going, holding on and letting go, permeate this highly engaging, captivating, and, yes, dream-infused story."
—Kirkus Reviews

"The novel flies by, with its heart in its well-developed characters and its spark from the touch of magic. Evie's quest . . . is poignant and realistic, and Watson's beautiful yet clear language brings her quiet emotion and loss to life. The Dream Peddler digs into the lies we tell ourselves and asks what it means to confront the truth at the root of our most impossible dreams."
—Booklist

"What an astonishing novel. The Dream Peddler unfolds like a gorgeous poem, leading us deep into the lives of its characters, and exploring the vast underground legacy of our own desires. This is the must-read book of the year."
—Rene Denfeld, bestselling author of The Child Finder

"The Dream Peddler is a lovely, lyrical novel. Watson's poignant and gentle storytelling and the near-poetry of her beautiful prose captivated me from the beginning. I loved every page."
—Louisa Morgan, author of A Secret History of Witches

"Martine Fournier Watson's vivid writing will leave you feeling as if you are a satisfied customer of the dream peddler."
—Mark Tompkins, author of The Last Days of Magic