Aging Backwards: Updated and Revised Edition: Reverse the Aging Process and Look 10 Years Younger in 30 Minutes a Day (Paperback)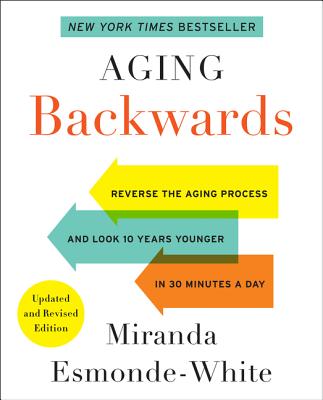 $21.99

Special order - we'll let you know how long!
Other Books in Series
This is book number 1 in the Aging Backwards series.
Staff Reviews
---
This book introduced me to Miranda Esmonde-White. I love her. I love her attitude. I love her knowledge. And I love that -- for over a year now(!) -- I exercise for 22 minutes a day and feel so much less achy! (I use her videos too) Recommended by Alena
— From
Our Favorite Non-Fiction for Adults
Description
---
PBS fitness personality on Classical Stretch and creator of the fitness phenomenon Essentrics, Miranda Esmonde-White offers an eye-opening guide to anti-aging that provides essential tools to help anyone turn back the clock and look and feel younger no matter what age.

Miranda Esmonde-White trains everyone from prima ballerinas to professional hockey players to Cerebral palsy patients: what do they all have in common? All of these people are hoping to heal their bodies, prevent further injury, and move optimally and without pain. In fact, they have the same goals as any of us who are trying to stay young, fit, and reverse the hands of time.


Because the aging of our bodies occurs in our cells, it must be repaired there too—that's where Miranda's highly effective and sought-after techniques come in. The body is programmed to self-destruct as we age, but the speed at which it self-destructs is up to us. Recent scientific studies have proven this fact! In Aging Backwards, now with a whole new chapter on fascia, Miranda offers a groundbreaking guide on how to maintain and repair our cells, through scientifically designed workouts.  


Healthy cells prevent joint pain, muscle loss and weak bones—helping to control weight, increase energy, and improve strength and mobility. Miranda offers readers of all ages the tools they need to look and feel young. Complete with tips, tools, and her Eight Basic Age-Reversing Workouts accompanied by instructional photos and web clips, Aging Backwards will help you grow younger, not older! 

About the Author
---
Miranda Esmonde-White is a New York Times bestselling author and one of America's greatest advocates and educators of healthy aging. Following her career as a professional ballerina, Miranda developed her own fitness technique, Essentrics® in 1997, and became the flexibility trainer to numerous professional and Olympic athletes and celebrities. Her top-rated fitness TV show, Classical Stretch has been airing on PBS and Public Television since 1999, with workouts are available on DVD and streaming; and she offers fitness holidays and live teacher trainings at locations across the globe.
Esmonde-White's award-winning PBS documentaries, Aging Backwards, Aging Backwards 2, and Forever Painless  are revolutionizing the way we understand the role that fitness plays in slowing down the aging process while keeping our bodies feeling young, strong and healthy. She is also the author of Forever Painless: End Chronic Pain and Reclaim Your Life in Just 30 Minutes a Day, which was the recipient of a silver prize Nautilus Award.
Praise For…
---
"Public TV stations and their viewers have responded enthusiastically to Miranda's workouts for more than a decade; and from a personal standpoint I have experienced and enjoyed the anti-aging benefits of her program, too!" — Chris Funkhouser, VP, American Public Television
"I started doing Miranda's workouts ten years ago, and now I recommend them to ALL of my patients, even for those with joint problems. It is safe, easy, convenient, and complete . . . the total package!" — Dr. Beth Barnett, Certified Chiropractic Sports Physician
"Miranda Esmonde-White shows readers how we age at a cellular level, and what we can do to slow down and reverse this process. Her pioneering exercise program can help anyone, at any level, maintain a youthful body as we inevitably enter into later stages of life." — Claudio Cuello, MD, Professor and Former Chair of Pharmacology, McGill University